NY Yankee Great Ron Guidry to Appear in Montclair to Introduce New Signature Gin

Montclair, NJ – Wednesday, October 25th
Former New York Yankees star pitcher Ron Guidry will be upstairs at Tierney's Tavern in Montclair, NJ from 6:00 – 7:30pm to meet and mingle with guests who will receive an autographed, limited-edition bottle of his namesake Championz Gin upon making a $100 donation to the Yogi Berra Museum & Learning Center. This exclusive release by Golden Bay Distillery pays homage to exceptional individuals who embody the spirit of a champion, like the legendary Ron "Louisiana Lightning" Guidry himself, with only 2,549 sequentially numbered bottles available. All proceeds from the event benefit the Yogi Berra Museum & Learning Center, founded by Ron's close friend and baseball legend Yogi Berra, a true Champion of respect, teamwork and sportsmanship.
Guidry, known as "Gator" and "Louisiana Lightning"® to his teammates, quickly rose in 1977 to become the ace of the Yankees' stellar pitching staff, helping the world champions during their heyday in the so-called "Bronx Zoo" years. In 1978, Guidry went 25-3 with a 1.74 ERA and won the Cy Young Award as the best pitcher in baseball, helping to bring home the Yankees' second straight World Series championship. A four-time All Star and five-time Golden Glove winner, Guidry played from 1976 to 1988, served as the Yankees' captain in the 1980s, and remains one of the greatest pitchers in Yankee history. After his playing career ended, Guidry's relationship with Montclair local Yogi Berra grew especially close; the two were virtually inseparable throughout years of Yankees' spring training sessions later in Berra's life. Since Berra's passing in 2015, Guidry has remained deeply involved in the Yogi Berra Museum & Learning Center, serving as co-chair of the Museum's annual Celebrity Golf Outing, and receiving the Yogi Berra Museum's Inaugural Best Teammate Award in 2017. All proceeds from the Tierney's event and a portion of proceeds from retail sales of his namesake gin will support the Museum's education programs, which serve over 10,000 students annually.
About The Yogi Berra Museum & Learning Center
The Yogi Berra Museum & Learning Center is a nonprofit sports education organization on the campus of Montclair State (NJ) University. The Museum's mission is to preserve and promote the values of perseverance, respect, sportsmanship and excellence through inclusive, culturally diverse, sports-based educational exhibits and programs.
For additional information about the Museum, please visit www.yogiberramuseum.org or call 973.655.2378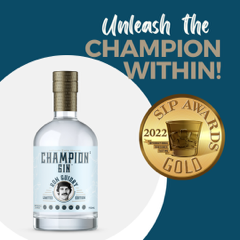 We are pleased to announce the release of a limited edition spirit; Championz Gin celebrating our friend and client New York Yankee Legend Ron Guidry. This unique product is co-branded with the Yogi Berra Learning Center to raise money for this worthwhile cause.